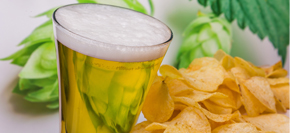 Our Seasonal Favorites
Ranging from amber to brown, the fall season's fuller–bodied beers have slightly increased alcohol content and use fresh Michigan hops and a variety of holiday-inspired ingredients.
---
HARVEST ALES
Pale Ales and IPAs in this category use fresh hops, harvested right off the vine, offering a distinct hop character not found in dried or pelletized hops.
Try…
Frankenmuth's Batch 69 American IPA, a pale-golden, medium light-bodied beer with an intense hop aroma and flavor. With its tastes of citrus, flowers, and pine, this beer is the perfect complement to strong, spicy foods like chicken wings, ribs and bold, sweet desserts.
Try…
New Belgium Brewery's Red Hoptober, a dark garnet like fall leaves with a bright and inviting head. Hops are bold and present with a distinct, piney flavor while the caramel malt and roasted barley provide backbone. Hints of citrus with a subtle, roasty tone that pairs pleasantly with the warming bite of bitter. Perfect for shortening days and campfire nights.


OKTOBERFEST
A malty, amber beer style that uses Vienna and Munich malts. It features a low to moderate hoppiness and is extremely flavorful and smooth.
Try…
Frankenmuth's Marzen style Oktoberfest lager, a copper beer with four different malts to give it a smooth barley flavor, balance, and a nice finish. This beer is perfect with hearty food like red meat, burgers, sausages, and even spicy foods.


BROWN ALE
Specially roasted malts give this beer its dark color and toasted, nutty, and biscuit type flavors. Paired with a low–to–heavy hop character for a full–flavored, full–bodied brew.


PUMPKIN BEERS
Using flavors of the season, these pumpkin and pumpkin pie spice beers yield distinguishable flavor and aroma.