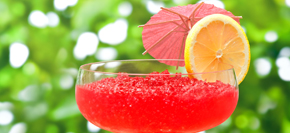 Our Seasonal Favorites
When the chilly days of winter hit, our tastes tend to turn to drinks that warm us up and are filled with flavors of the season. Warm drinks, soothing cocktails, and libations fit for the many holidays and celebrations of the season are listed below.
---
APPLE MARGARITA (FROZEN)
This can be shaken and on the rocks, but the option is there to toss the ingredients into a blender with a cup of ice.
Try...
1 cup of ice, 1 oz tequila, 1 oz Apple Pucker or apple schnapps, 1 oz apple juice, 1/2 oz sour mix, Apple wedge for garnish. Pour the ingredients into a blender and blend until smooth or into a cocktail shaker and shake well. If desired, wet the rim of a chilled margarita glass with Apple Pucker and rim the glass with a mixture of cinnamon and sugar. Pour or strain the drink into the glass, over ice if desired. Garnish with a green apple wedge.


BLUE LAGOON MARGARITA
Enjoy the tropical citrus and sparkling twist with this drink. As with any shaken pineapple juice cocktail, this will get a little thick and foamy but it will settle in the glass.
Try...
1 1/2 oz tequila, 3/4 oz blue curacao, 1/2 oz pineapple juice, splash of lemon-lime soda, splash of lime juice. Pour the ingredients into a cocktail shaker with ice. Shake well.


JAPANESE SLIPPER
If you're looking for a short drink, light on the alcohol and high on the fruity flavor the Japanese Slipper is one you'll want to give a try.
Try...
1 oz Midori melon liqueur, 1 oz Cointreau orange liqueur, 1 oz lemon juice, honeydew melon slice for garnish. Pour the ingredients into a cocktail shaker with ice. Shake well. Strain into a chilled cocktail glass. Garnish with a slice of honeydew melon.