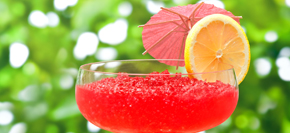 Our Seasonal Favorites
When the chilly days of winter hit, our tastes tend to turn to drinks that warm us up and are filled with flavors of the season. Warm drinks, soothing cocktails, and libations fit for the many holidays and celebrations of the season are listed below.
---
POMEGRANATE POINSETTIA
Elegant and fruity, the Pomegranate Poinsettia is a Champagne cocktail perfect for entertaining during the holidays.
Try…
1 oz. Pomegranate Liqueur, 1 oz. orange-flavored liqueur, 1 oz. orange juice, 3 oz. Champagne. Mix the first three ingredients in a tumbler with ice. Slowly add the Champagne, stirring gently. Strain into a Champagne flute.


ROASTED TOASTED ALMOND
The Roasted Toasted Almond (or Burnt Almond ) is roasted by adding vodka to a Toasted Almond. Both are relaxing sippers with a nice almond-coffee flavoring and are really nice on chilly fall evenings by the fire.
Try…
1 oz. vodka, 1 oz. coffee liqueur, 1 oz. amaretto, milk or cream. Build the vodka and liqueurs in an old-fashioned glass filled with ice. Fill with milk or cream. Shake by placing a mixing tin over the glass and giving it one or two good shakes.


POLAR BEAR (shooter)
The Polar Bear is one of those great tasting shooters that you can't get enough of. It's a simple mix of peppermint and chocolate, similar to the Peppermint Patty and the Snow Ball.
Try...
1⁄2 oz. white creme de cacao liqueur, and 1⁄2 oz. peppermint schnapps. Pour the liqueurs into a cocktail shaker filled with ice. Shake well. Strain into a shot glass.


PEPPERMINT FROTH
What is it about cold, minty cocktails that draw us in on some of the coldest days of winter?
Try…
1 1⁄2 parts Grey Goose Vodka, 1 part peppermint schnapps, 1⁄2 part simple syrup, 1⁄2 part cream, and candy cane or peppermint patty for garnish. Mix all ingredients in a cocktail shaker filled with ice. Shake vigorously until the outside of the shaker is frosted and beaded with sweat. Strain into rocks glass filled with crushed ice. Garnish with candy cane or peppermint patty.